It is week two of One Room Challenge, and things with our Modern Farmhouse Laundry Room are moving right along! If you missed week 1's post with our plans and inspiration you can find that here. While it may not look like much has taken place most of our work this week has been below the surface ( i.e. in the walls).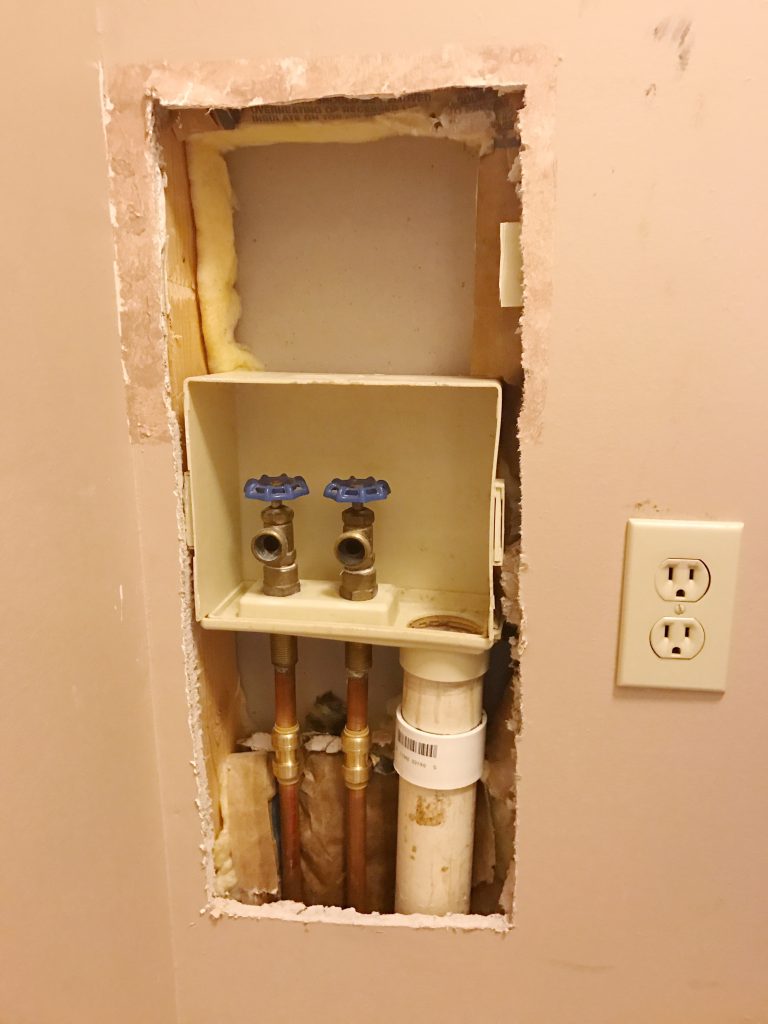 Progress
They say things usually tend to get worse before they get better, and things are definitely not so pretty over here! However, we have made some major progress! If you don't remember our checklist from our week one post here is a recap…
Unstack the washer and dryer
Add a butcher block counter top over W & D

Fix the plumbing issues (such as the random pipes sticking out of the walls)

Remove current shelving

and add upper cabinets all the way across the back wall
Paint the ceiling, walls, baseboards and trim
Install subway tile backsplash w/ gray grout
We have accomplished what was probably the most daunting task (especially for the hubby) of getting the plumbing issues resolved. We also uncovered a little more information about the "random pipes" when we opened up the walls…literally, the writing was on the wall…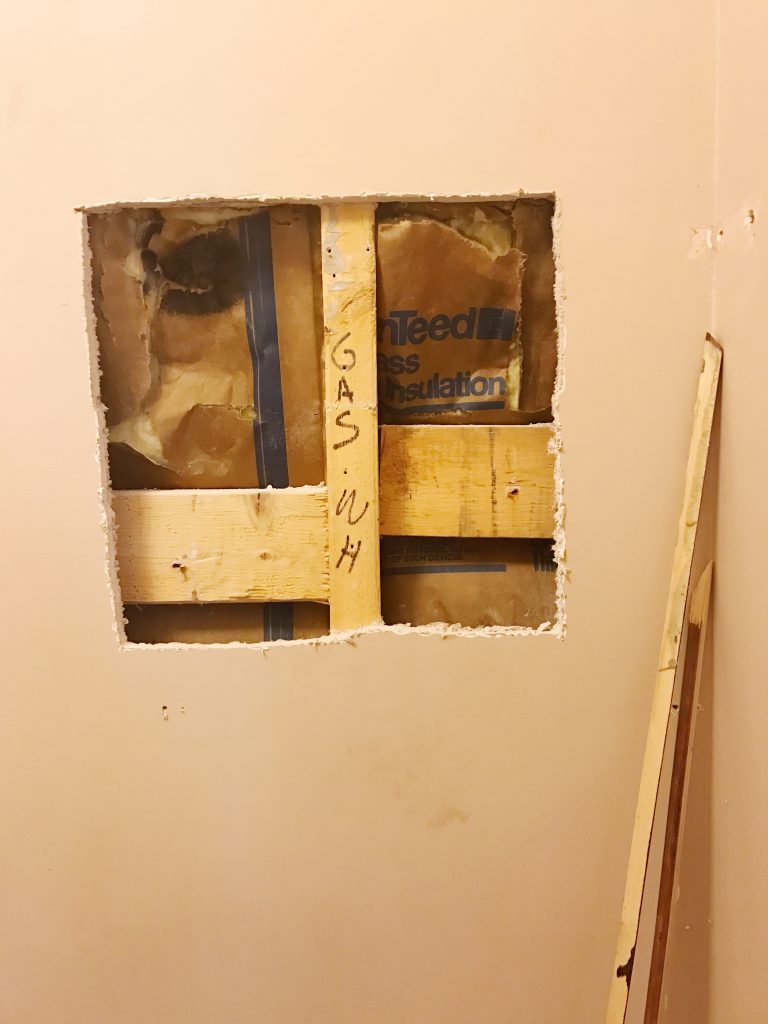 We guessed it! Looks like a "gas WH" AKA "gas water heater" used to be in this laundry room. I can't even! No wonder one of the previous homeowners moved it, there just isn't enough space! But back to my progress update… as you can also see in this photo, the brown quarter round has been removed and will be replaced with the correct size to match the rest of the house, which will be painted white when I paint all of the trim.
Paint Colors
Speaking of paint colors, here are the paint, tile and grout colors we have chosen for our space (I am still undecided on a wall color at present, but I think I am leaning toward white).
No. 1 | Cabinet Paint Color Benjamin Moore Chelsea Gray HC-168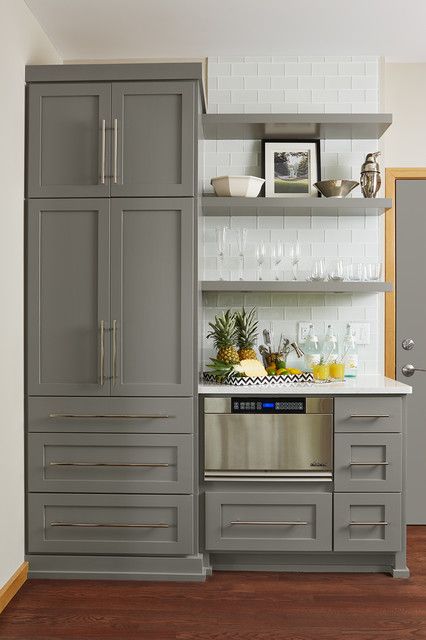 Source Fiddlehead Design Group

No. 2 | Backsplash White Subway Tile
No. 3 | Grout Color Mapei #107 Iron
No. 4 | Trim Color Sherwin Williams Alabaster SW-7008
Shopping
Several exciting purchases have happened this week! We bought the unfinished cabinets for above our washer and dryer that will be sanded, primed and painted.
Another exciting purchase this week is the butcher block counter tops! We decided on Rubberwood butcher block, and bought it locally.
Mishaps
We had a few minor mishaps this week, but nothing too terrible. The back wall of our laundry room shares a wall with our kitchen.  Unfortunately, while cutting the pipes to move them in the laundry room, the sheet rock in the kitchen got a few slashes cut in it! Oops! It looks like the wolverine attacked the kitchen wall. But all-in-all the damage is pretty minimal and it will be good as new with a little bit of mud and some touch-up paint! Another small issue we have come across is the faucets where the hot and cold water connect to the washer are leaking. This is unrelated to the work that we did in moving them down, but nonetheless, they will be getting replaced.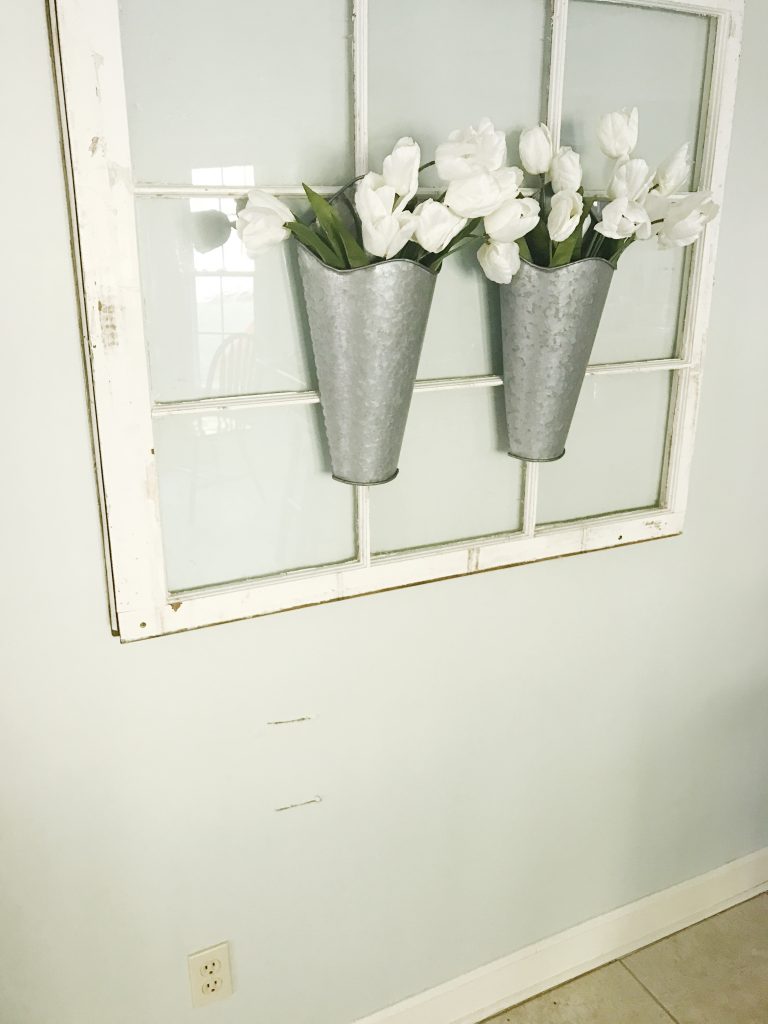 What do you think of my paint color choices? Do you have a tried and true white paint suggestion for the walls? Let me know in the comments!!
Follow along on Instagram for behind-the-scenes photos and videos!
Save
Save
Don't miss an update! Sign-up for my newsletter below to get each post sent directly to your inbox!