We are halfway through our first One Room Challenge and if I'm being honest, I'm exhausted!  This week has been especially challenging because my hubby is out of town on business. Along with the Easter holiday, and me being out of town last week, the progress on our modern farmhouse laundry room has been slow-going.  Thankfully this week our parents have been helping me out by watching the boys! Let me just say this, if you ever decide to do the One Room Challenge you should plan ahead to make sure you are not having to travel in the middle of it.
Progress
On a lighter note, despite the many interruptions, progress HAS been made! If you don't remember our checklist from our week one post here it is with a few updates…
Unstack the washer and dryer
Seal butcher block countertop and install

Fix the plumbing issues (such as the random pipes sticking out of the walls)

Remove current shelving

Sand and caulk cabinets
Prime, paint and install cabinets
Install cabinet hardware
Paint the ceiling, walls,

baseboards and trim

Patch and mud the walls

Remove old brown shoe molding and replace with white that is correct size

Install subway tile backsplash w/ gray grout
Install clothes hanging bar
I decided a few items needed to be added to the checklist in order to accurately represent the amount of work that is going into the room (and let's be real, I wanted to be able to check off more stuff!). So to recap we have: installed and caulked the new shoe molding, patched, mudded, and sanded the walls, primed over the patches, and painted the baseboards and trim work (minus the door and trim around the door).
I have bought the paint for the walls and will start painting tomorrow! This was a huge step, because I FINALLY decided on a wall color!! What color did I pick?? You will just have to wait and see in the final reveal! If you read my week 2 post you probably saw that I chose Sherwin Williams Alabaster for the trim color. Well…I changed my mind. Don't get me wrong, I really like Alabaster and we have used it on our exterior trim, but I wanted the trim work to be really white. That is why I decided to go with Benjamin Moore Simply White, and I am so happy with my decision! Here are a few pictures during the painting process (I didn't worry too much about cutting in the trim near the walls because those are getting painted)
*Please forgive the quality of these progress pics, I snapped them with my phone while I was working.
Right side is the existing color, left is the first coat of BM Simply White.
Crown molding after two coats.
Baseboard with new shoe molding after two coats.
Picking Cabinet Hardware
The design decision that I have been deliberating over this week is–cabinet hardware! There are so many great styles and finishes out there that I love it's going to be really hard to choose! I am obsessed with bar pulls I think they are so sleek and stylish! Choosing the perfect hardware for your cabinets is like choosing the perfect accessories for an outfit. It can add a lot to the overall look of a room!
There are three finishes that I am considering in my laundry room 1) stainless 2) black and 3) brass. Though I love brass, I am really not sure if I am brave enough to pull it off! I am happy that brass is making a comeback (maybe I won't have to change out all of my brass doorknobs and hinges after all) I'm just not sure if it is for me. Nonetheless, it can be very beautiful, especially with gray cabinets!
Source Elements of Style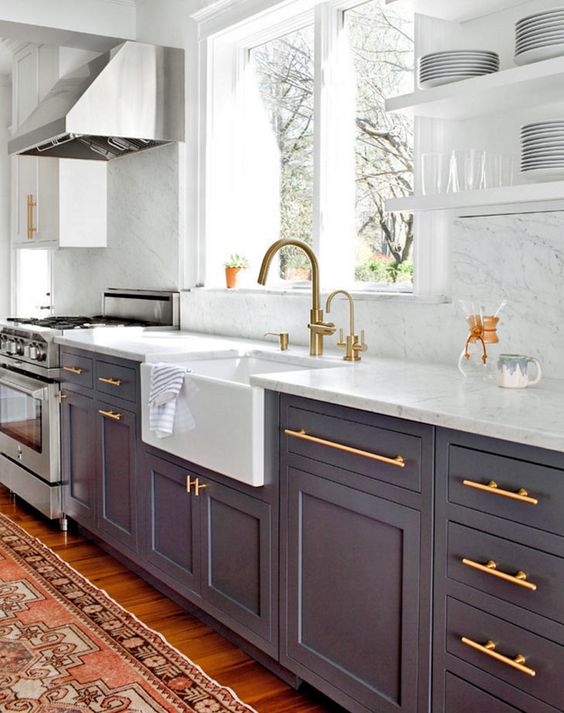 Source Elizabeth Lawson Design
The two finishes that I am leaning more towards are stainless and black. I love the clean minimal look of stainless. You may remember this beauty from last week's inspiration…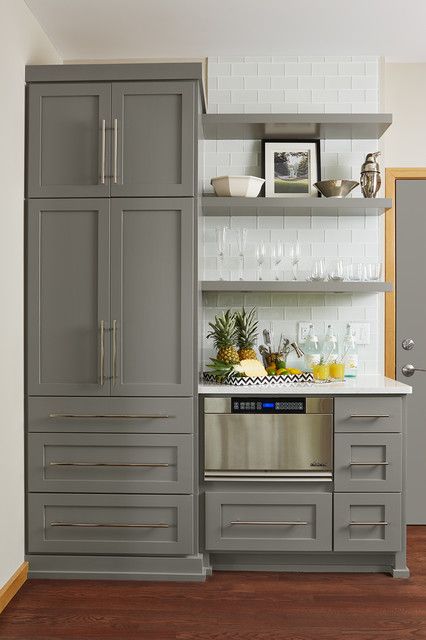 Source Fiddlehead Design Group
The stainless is just gorgeous on those gray cabinets! I am also loving black hardware because it has a classic feel, sort of like wrought iron, and it would add some great contrast!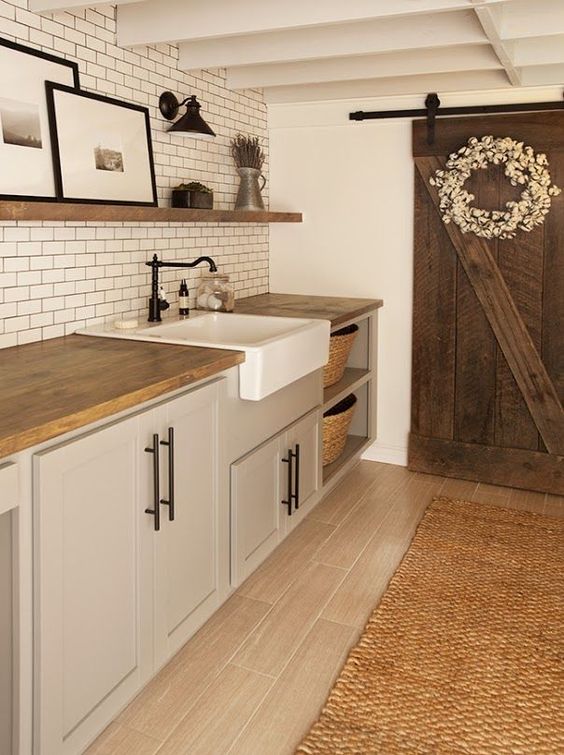 Source Jenna Sue Design Co.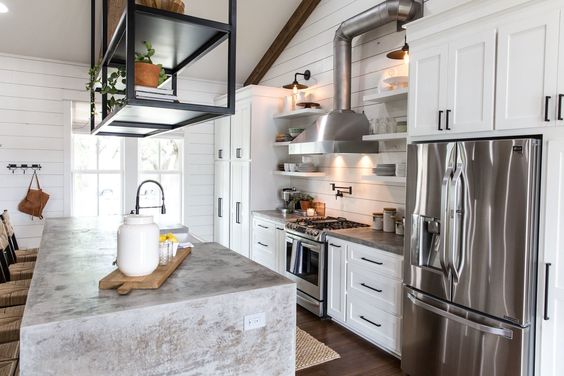 Source HGTV Fixer Upper
So here are the bar pull styles I have narrowed down my choices to!
Disclosure: This post contains affiliate links, which means I may receive a commission if you click a link and purchase something. Please check out our disclosure policy for more details.
No. 1 | No. 2 | No. 3 | No.4 | No. 5 | No. 6 | No. 7 | No. 8 | No. 9
What is your favorite finish for cabinet hardware? Are you loving bar pulls as much as I am? Leave a comment and let me know!
Follow along on Instagram for behind-the-scenes photos and videos!
Save
Save
Save
Save
Save
Save
Save
Save
Save
Don't miss an update! Sign-up for my newsletter below to get each post sent directly to your inbox!