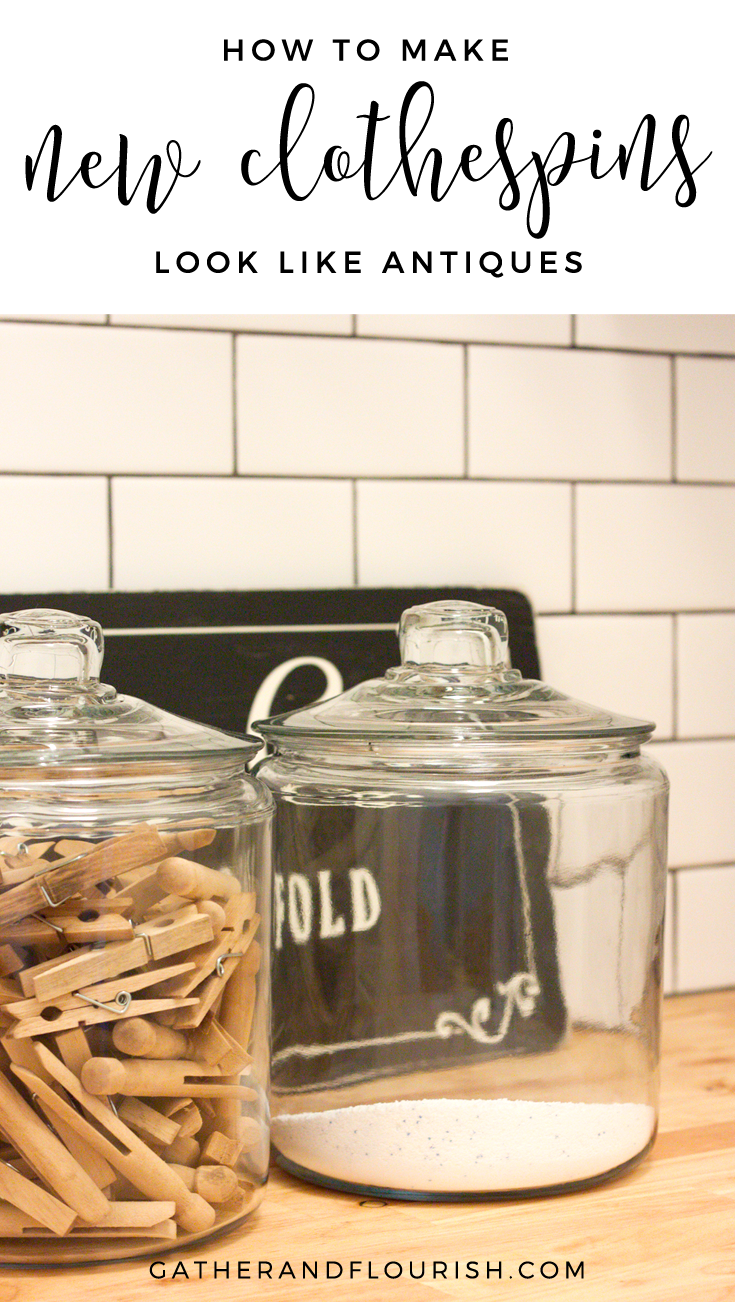 Disclosure: This post contains affiliate links, which means I may receive a commission if you click a link and purchase something. Please check out our disclosure policy for more details.
If you saw the reveal of our Modern Farmhouse Laundry Room last week that we were renovating as a part of the One Room Challenge you may have seen this jar of seemingly antique clothespins. What if I told you they were brand spankin' new?! Say what?! That's right, I bought them brand new from Walmart and Amazon. I had gone junkin' trying to find the real deal, but the ones I came across were way out of my price range for simple jar filler (one store wanted $30 for a bag of them, nope!) Today, I'm going to let you in on a little secret: how to antique new clothespins! (Hint – you probably drink the stuff every morning!)
Before you get on my case for wasting the precious "fuel for life" that is coffee, please hear me out! First of all, the coffee I used has probably lived in my pantry for about 4-5 years, it's off-brand Folgers and it was decaf (I mean who needs that stuff anyways?!). I rest my case. But enough of my yammering on, here is what you will need…
You Will Need:
-Ground Coffee
-Clothespins (I used these and these)
-Cooking Pot
-Water
-Old Towel or Paper Towel
Instructions:
Brew up a pot of STRONG coffee (go big or go home people!), I brewed mine in a pot on the stovetop and I used several big scoops. There really is no exact measurement for how I did this I just added some until I thought it was enough then I brought the whole pot to a boil.
Turn off the burner and add your clothespins (you will probably have to do several small batches). Leave the clothespins in the coffee until they reach your desired color. I would estimate that I left each batch 10-20 minutes. I did some batches lighter, and some darker to create some variation.
Rinse your clothespins and lay out on an old towel to dry. Make sure they dry thoroughly before placing them in any air tight containers.
That's it! You now have knock-off antique clothespins!
Have you ever used coffee for antiquing? What is your favorite antiquing method? Let me know in the comments below!
Save
Save
Save
Save
Save
Save
Save
Save
Save
Don't miss an update! Sign-up for my newsletter below to get each post sent directly to your inbox!