Disclosure: This post may contain affiliate links, which means we may receive a commission if you click a link and purchase something. Please check out our disclosure policy for more details.
It's finally time to share our Christmas Home Tour with ya'll! You all know that I tend to use neutrals when it comes to decor, but when it comes time for Christmas, I love to add some pops of red! There is just something so merry and cheerful about adding a little color for the holidays! The sunroom/mudroom is by far one of my favorite rooms to decorate! I love changing up the decor in here for every season!
Don't you love these cute little white houses from the Target Dollar Spot? I was thrilled when I saw that they brought them back this year! I used some "naked books" to give them some height and dimension, and then sprinkled in a few bottle brush trees for a little greenery.
I love when items in my home have a story, like these stockings for example. Several years ago I saw them on Pinterest from Pottery Barn, and fell in love! There was only one small problem, they were discontinued. Enter my wonderful aunt who happens to be a knitting MASTER. Isn't she amazing?! She made them without even using a pattern! They are so special to me!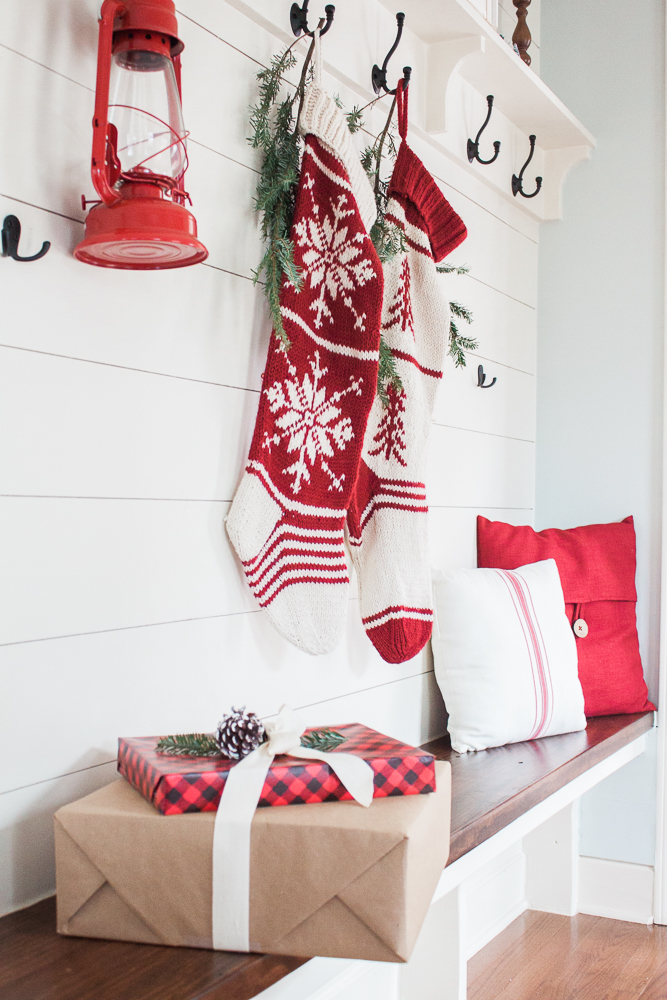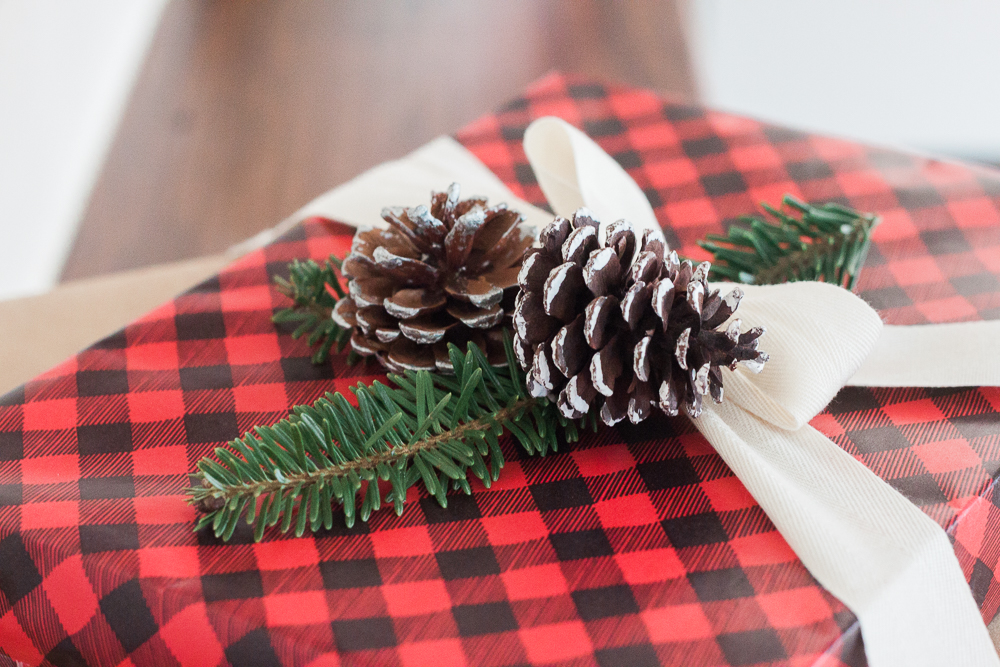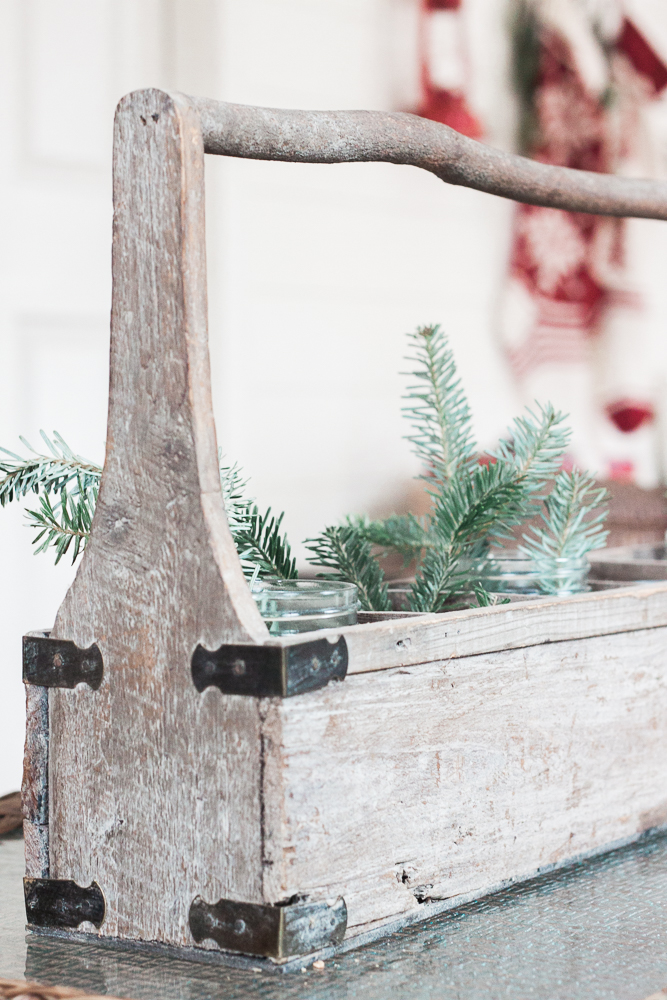 An easy (and free!) way to get some fresh greenery for your holiday home is to grab some Christmas tree trimmings from your local hardware store! There are so many things you can do with them! I like to use them as filler in vases, and jars.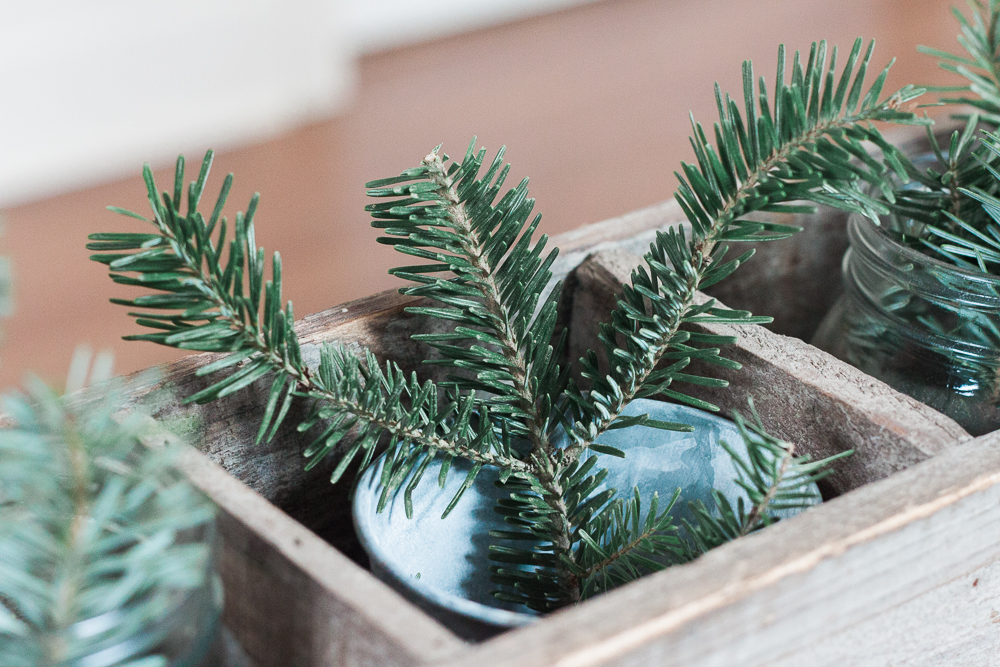 You won't want to miss our tutorial on how we make these DIY advent calendar bags! I love the way they turned out, and they look adorable hanging all over the tree! I bought the small red lanterns on Amazon for Christmas last year. I really like the way they look on the tree this year along with the red bead garland and the red berries!
We love this sweet little room in our home. We added the shiplap, and mudroom wall shortly after we moved in a little over two years ago. This is right by our back door, and the main entrance we use, so this room sees a lot of traffic! We love having the hooks for hanging backpacks and a bench for the little guys to sit on while putting on their shoes. It still needs some decor and furniture updates, which we look forward to starting sometime in the new year! Thank you for coming by the blog today! XOXO
Don't miss an update! Sign-up for my newsletter below to get each post sent directly to your inbox!