I posted a couple sneak peeks of this beauty on Instagram, but as promised, here is the tutorial and the official reveal for the DIY pallet wood farmhouse clock! This is a fairly simple project, and it's such a gorgeous statement piece! My walls have been in desperate need of some decorations, so when I came across a tutorial by Sarah over at Little Red Brick House for a pallet wood clock I just knew I HAD to make one! I had some pallet wood pieces left over in my garage from other projects so I put my hubby to work. I mean what are handy hubbys for if not to make your Pinterest dreams come true?!
Disclosure: This post may contain affiliate links, which means we may receive a commission if you click a link and purchase something. Please check out our disclosure policy for more details.
Supply List:
Pallet Wood
1″ x 3″ Boards
Nail Gun (optional) or Hammer and Nails
String/Twine
Paint Brush (I like to use cheap chip brushes)
We started by laying out all of the pallet wood pieces on the ground, lined them up, then nailed each one of them into two 1 x 3″ boards across the back. Then to make the circle, he stuck a nail in the middle of the attached boards, tied a string to the nail, stretched it to the desired diameter, and traced a circle all the way around the boards. Next, he cut out the circle with a jigsaw. Our circle ended up being just shy of 36″ in diameter. I did not get any pictures of these steps, so for more visual instructions visit Sarah's tutorial.
This next step is completely optional, you may prefer the color of the pallet wood as-is. I however, wanted to give the wood a little more richness, so I stained my clock using Minwax Golden Oak. To figure out which stain color I wanted to use, I test a few different shades I had laying around on the back of the clock until I found the right one.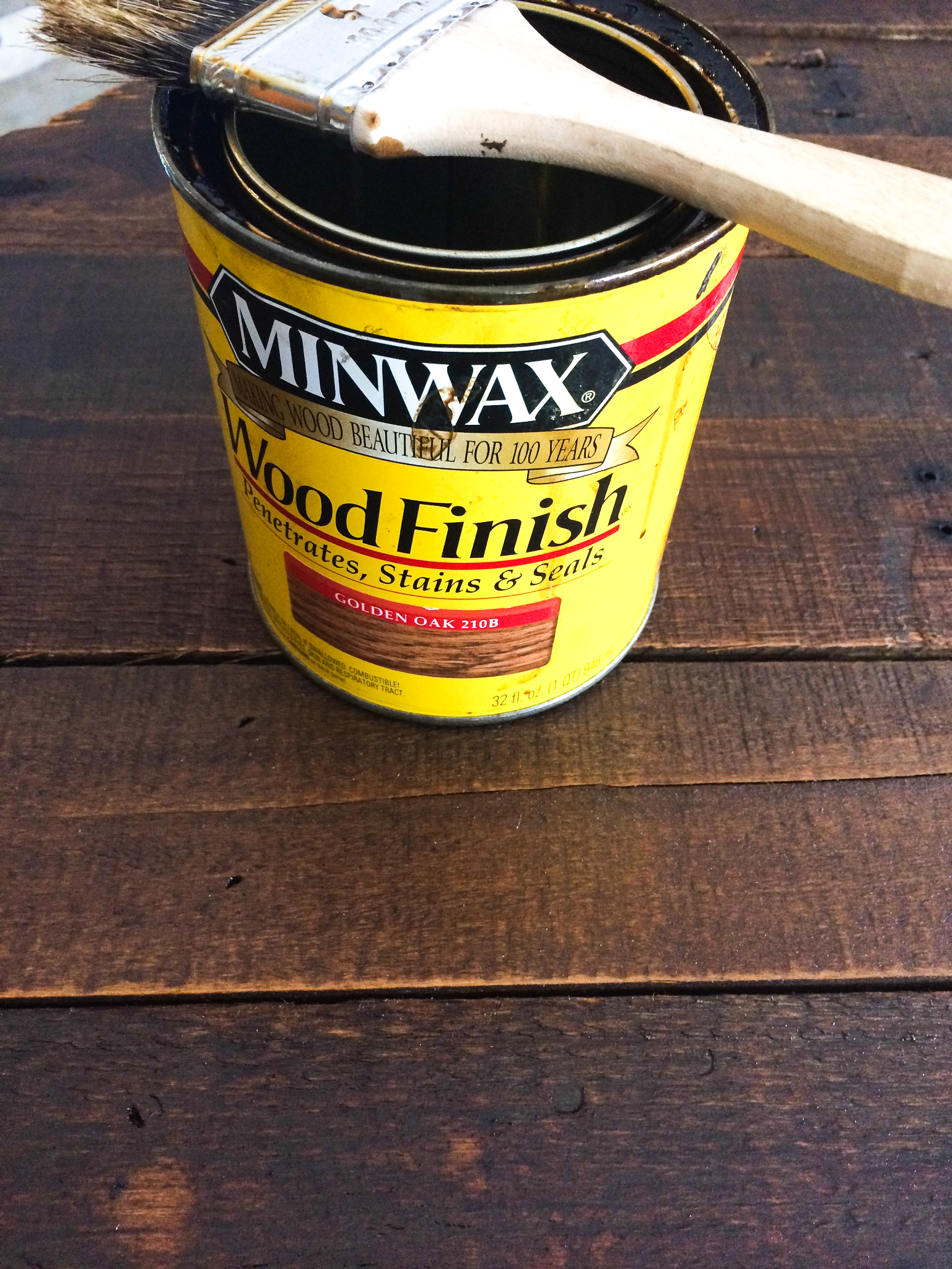 Here you can see the difference in the natural pallet wood, and the richness of the wood with the stain. Love it!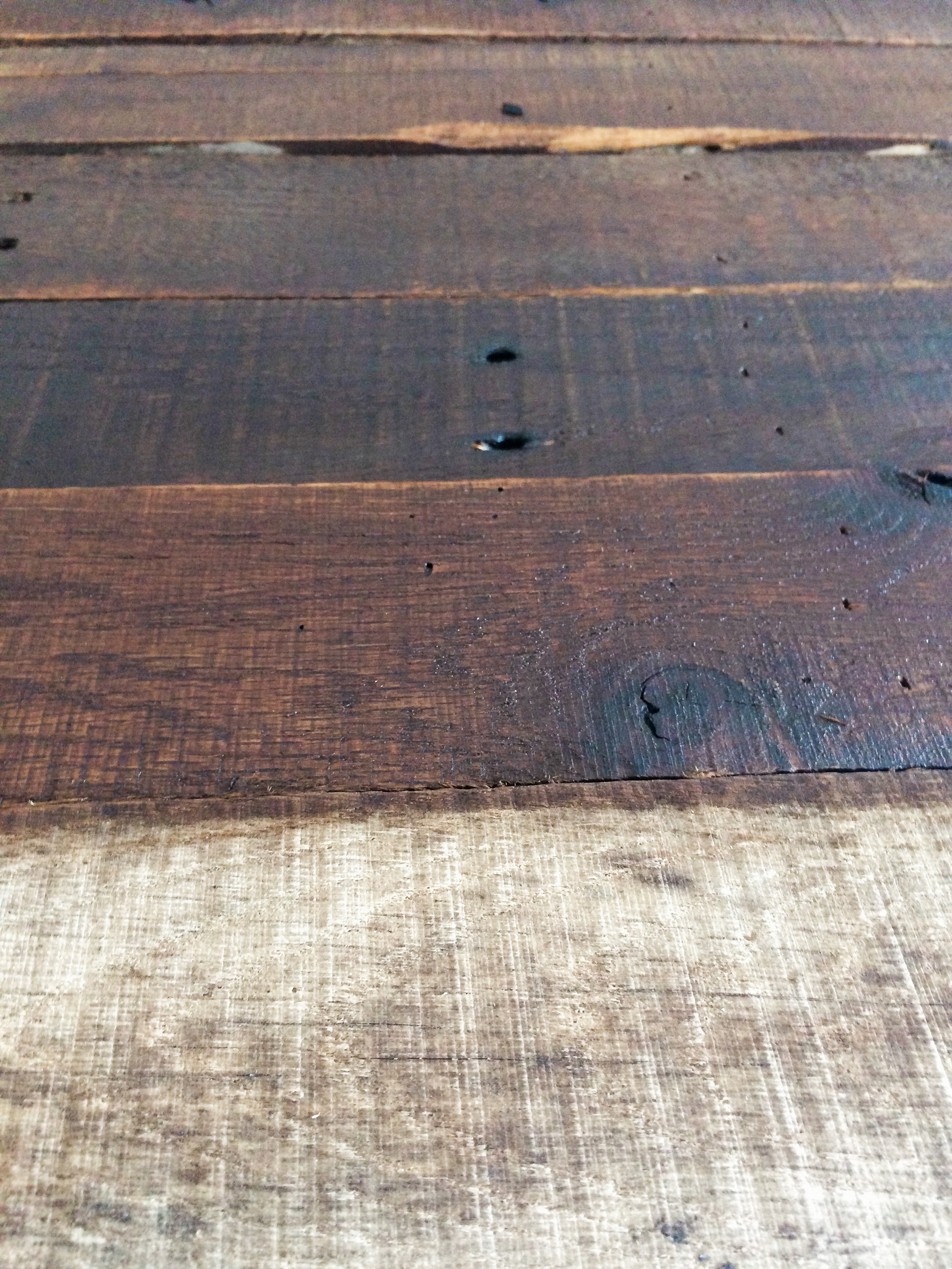 Once I stained it I let it dry for about 24 hours, then using the same nail trick I used earlier to make my circle, I traced another smaller circle on to my clock. Leaving a small circle in the center unpainted, I painted my clock with one coat of General Finishes Antique White milk paint. When that was dry, I distressed it lightly with my palm sander. Next, I traced a couple more circles around the edge of the clock for my minute marks. To draw my minute tick marks I laid a piece of string around the outside edge of the clock, and cut it where the ends met. Then I took it and measure it to get the circumference of my clock. I took that number and divided it by 60 (for 60 minutes in an hour), and then I marked off each minute on the string. Taking the string, I stretched it back around the edge of the clock and transferred the tick marks. Now I had evenly spaced minutes marks! I painted these on with black paint and a small brush, but you could also use a black paint pen which would be much easier. I would recommend using an Elmer's Paint Pen.
Now it was time to add my numerals! To make my numerals I used a font named, Didot, and printed out an I, V, and X. Then I cut them out and traced each of them onto my clock. I made my minute marks thicker at each 5 minute interval, so I knew to line up my numerals with each of those marks. To keep all of my numerals evenly spaced vertically, I lightly drew a couple circles and lined the top and bottom of my numerals up with them. For painting on the numerals, I used black craft paint and a small brush. It was insanely tedious and I regret not getting a paint pen! It would have been sooo much faster! I would definitely recommend picking up one of these.
At this point I could have decided to put the clock hands on and call it done, but I wanted to take it one step further and really personalize our clock. For this step I printed out our monogram and the year our family was established. Then I took a piece of graphite (but you could also use a pencil) and rubbed it all over the back of the words. I taped them down on my clock, and traced them. This transferred them onto the wood and I filled them in with a paint pen.
Finally, the clock was ready for the hands! We purchased our hands and movement from Coastal Tide Clocks on eBay. We used 16″ clock hands and a high torque motor with a 1-1/16″ shaft to accommodate for the thickness of the pallet boards. To install the clock movement we used the instructions provided.
I am beyond thrilled with how this clock turned out! It is the perfect statement piece in our living room, and the best part is it only cost us about $25!
Save
Save
Save
Save
Save
Save
Save
Save
Save
Save
Save
Save
Save
Save
Save
Save
Save
Don't miss an update! Sign-up for my newsletter below to get each post sent directly to your inbox!